Jeff Stricker & Steve Tenbroeck
Alain Pinel
Archive for the 'For Buyers' Category
Check out this chart that visualizes the inventory of single family homes that are currently on the market compared to the 15 year averages for Los Altos, Los Altos Hills, Mountain View, Palo Alto, Menlo Park, Portola Valley and Atherton.
Record low inventory is the "new normal" in Palo Alto, but check out the two communities closest to Google. There are only 7 active listings in Mountain View and 7 in Los Altos. Typically, the spring market starts sprouting after the Super Bowl. Let's see what the rest of February brings for rainfall and homes for sale.   
To streamline the home buying process for you, we have defined four distinct stages. This article summarizes each step of the process. We encourage you to contact us for more details.
STEP 1: PRE-SELECTION
Initial Meeting
Define your goals & objectives
Overview of Multiple Listing Service (MLS) areas, statistics, and maps
Discuss qualities of "blue chip" properties
Loan pre-approval
Create plan of action
Finances
Meet with mortgage representative and submit application
Verify purchase price
Estimate timeline to closing
Liquefy necessary funds
Receive pre-approval
Insurance
Meet with broker
Verify availability of insurance
Determine specific information/actions needed by broker to issue insurance
Contract
Review contracts
Clarify questions with Jeff or Steve
Write letter of introduction
STEP 2: SELECTION
Search
Narrow options for MLS areas, home type, and price range
Establish MLS auto-search
Tour neighborhoods and begin process of elimination
Visit open homes within price range
Tour properties with Jeff or Steve
Move quickly when a winner is identified – call Jeff or Steve
Confirmation
Tour property with Jeff or Steve
Determine offer date and time
Drive and walk around neighborhood
Review disclosure documents
Verify school districts (if appropriate)
STEP 3: CONTRACT NEGOTIATIONS
Offer
Meet with Jeff or Steve to write offer
Tender deposit check
Deliver letter of introduction
Counter-Offer Strategies
Make the other person walk away
Look for trade-offs
Seek a win-win solution
Determine if new inspections and/or a walk-through are needed
Negotiate any newly discovered fix-its
Verify appraisal and ability to close of escrow on agreed-upon date
Remove contingencies
STEP 4: ESCROW MANAGEMENT
Details Handled by the Stricker/TenBroeck Team
Generate buyer's file
Meet appraiser at property
Submit deposit to escrow
Submit contract to lender
Monitor loan process closely
Meet with inspectors (if any)
Review all reports and disclosures
Review final settlement statement
Accompany you to escrow sign-off
Final walk-through checklist
Verify possession from seller
Final review and update of buyer's file
In Palo Alto, Los Altos and surrounding communities, the residential real estate market continued to recover in the 1st quarter of '10. Supply and demand continued to move back in favor of sellers with multiple offers common and prices rising.
SINGLE FAMILY HOMES
South and Mid-Peninsula Market Snapshot
? Q1-2010 vs. Q1-2009 ?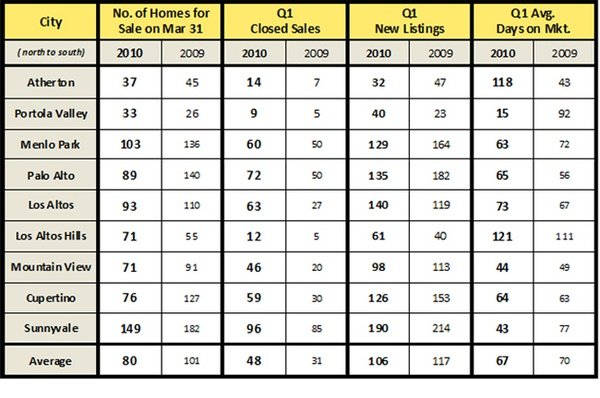 A Significant Shift in Supply & Demand
Several factors – including improving consumer confidence and lots of rain – caused the number of homes for sale in our market area to decline by 20% on average from a year ago. Sales volume, on the other hand, increased by 55%.
Consumer confidence is the best leading indicator of the local and national real estate markets.
When the index rises the number of sales rise and inventory of homes for sale falls.  When the index falls, the reverse happens.
The Conference Board just released their latest report indicating a slight rise in the index from 50 to 51.1 http://www.conference-board.org/utilities/pressDetail.cfm?press_ID=3836.  Historically, the Board considers a reading of 80 to represent a good, stable economy, while a reading of 100 or more indicates a growing economy.
Obviously we are a long way from an indication of a good economy, which is why we believe the stock and real estate markets are likely to surprise to the downside later this year.
Home sellers who are planning a 2010 sale should go to market as soon as possible.  Home buyers who are not at risk to rising interest rates may want to exercise patience.
In our effort to educate you on the home buying process, we have summarized the entire process into four distinct phases.
STEP 1: PRE-SELECTION
Initial Meeting
Define your goals & objectives
Overview of Multiple Listing Service (MLS) areas, statistics, and maps
Discuss qualities of "blue chip" properties
Loan pre-approval
Create plan of action
Finances
Meet with mortgage representative and submit application
Verify purchase price
Estimate timeline to closing
Liquefy necessary funds
Receive pre-approval
Insurance
Meet with broker
Verify availability of insurance
Determine specific information/actions needed by broker to issue insurance
Contract
Review contracts
Clarify questions with Jeff or Steve
Write letter of introduction
STEP 2: SELECTION
Search
Narrow options for MLS areas, home type, and price range
Establish MLS auto-search
Tour neighborhoods and begin process of elimination
Visit open homes within price range
Tour properties with Jeff or Steve
Move quickly when a winner is identified – call Jeff or Steve
Confirmation
Tour property with Jeff or Steve
Determine offer date and time
Drive and walk around neighborhood
Review disclosure documents
Verify school districts (if appropriate)
STEP 3: CONTRACT NEGOTIATIONS
Offer
Meet with Jeff or Steve to write offer
Tender deposit check
Deliver letter of introduction
Counter-Offer Strategies
Make the other person walk away
Look for trade-offs
Seek a win-win solution
Determine if new inspections and/or a walk-through are needed
Negotiate any newly discovered fix-its
Verify appraisal and ability to close of escrow on agreed-upon date
Remove contingencies
STEP 4: ESCROW MANAGEMENT
Details Handled by the Stricker/TenBroeck Team
Generate buyer's file
Meet appraiser at property
Submit deposit to escrow
Submit contract to lender
Monitor loan process closely
Meet with inspectors (if any)
Review all reports and disclosures
Review final settlement statement
Accompany you to escrow sign-off
Final walk-through checklist
Verify possession from seller
Final review and update of buyer's file